Here we go again!
Well I might as well be upfront and let you know there is not much work I will be able to do in the next two days. I am headed to Disney at O-Dark 30 this Wednesday.
It is a guy's trip (yes you can go without children and still have a great time) and we have been planning it for months. This trip I will go with my oldest son (he is 38 almost) and two other friends.
For this trip we will not be staying "on property" as they say but will take a shuttle back and forth to Disney.
What I want to let everyone know in this latest blog is just how easy it is to go to Disney
I know many may worry about driving in a state that has 23 Million people in it. Disney has a fix for that, and we have used it many times in the past. Once you arrive in the Orlando airport (airport code MCO) you can board a Disney bus that will whisk you and your family to any of the Disney hotels, and it is FREE….
Disney has hotels for all levels of client from Value properties like Pop Century to the All Star properties. There are moderate properties like the Caribbean beach or Coronado Springs. There are even Deluxe Resort properties (although I have never stayed in one) that have all the amenities one could want. No matter which style of hotel you chose they ALL have the Disney "Magic" feel.
Also every hotel has busses (running every 20 minutes or less) that will take you to the parks. These busses are also free and this means if you and your family are only doing a Disney Vacation you will never need to rent a car, Disney will do the driving for you.
In my first Blog I mentioned about the 4 main parks, Magic Kingdom, Epcot (that is where I am headed Wednesday), Hollywood Studios and finally Animal Kingdom. Disney also has two fantastic themed water parks, Blizzard Beach and Typhoon Lagoon. This photo is of my wife Theresa at Typhoon Lagoon this spring.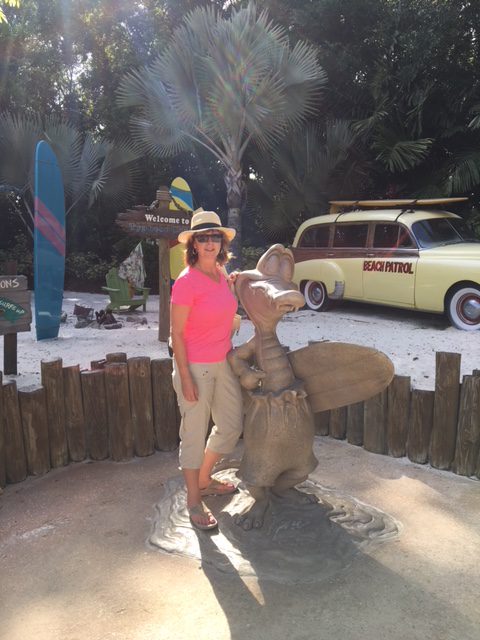 I will have an update and some new photos from the guy's trip after I get back. I am looking forward to the next week in the sun.