So I've been called Mr. DISNEY
For anyone that knows me well they know how much I like Disney World. All that is needed is for my wife (or anyone else) to mention Disney and a smile comes to my face. By the way I have certainly been called worse than Mr. Disney for sure.
The first time I went to Disney was in the early 1970's a few years after the 1st park opened. For those out there that are not aware, Disney in Florida started with only the Magic Kingdom. Many may think all 4 parks have always been there but not so.
In the early days at Magic Kingdom the "guests" bought a ticket book to ride each attraction. Some of the attractions were "premium" and took a special (read more expensive) ticket. If I had to guess the ticket program only lasted several years before Disney went to "all inclusive". Now when you access the park you can take part in all the attractions with the one admission.
I should mention that for the most of the time in Sussex I would have a hard time keeping up with my wife when we go for a walk. Not so in Disney, just ask any of my kids or Theresa, they say as soon as my feet hit Disney soil my calves bulk up and I turn into a combination of the Flash and the Hulk. (I know the Hulk is Universal not Disney) but I digress.
I look forward to any opportunity to get back to "The most wonderful place on earth".
For instance I am headed there for a "Guy's trip" with my oldest son (yes he is almost 38) and a friend of ours. I think we are close in our desire of all things Disney.
This trip will be to EPCOT which by the way was the second park opened by Disney in Florida. EPCOT has two distinct sections, one is Future World which has more of the attractions, and the second is The World Showcase. This time of year is the Food and Wine festival. That is what we are looking forward to, we can try "tasting size" portions of a lot of different cuisines' around the world (as well as different beverages). This will be quite the trip I am sure.
Finally Disney to me is all about Family.
I have been here many times with all my adult children (see the attached photo from 2007) as well as several times with our Grandchildren as well. We always have a wonderful time at Disney and look forward to the next "Visit with Mickey".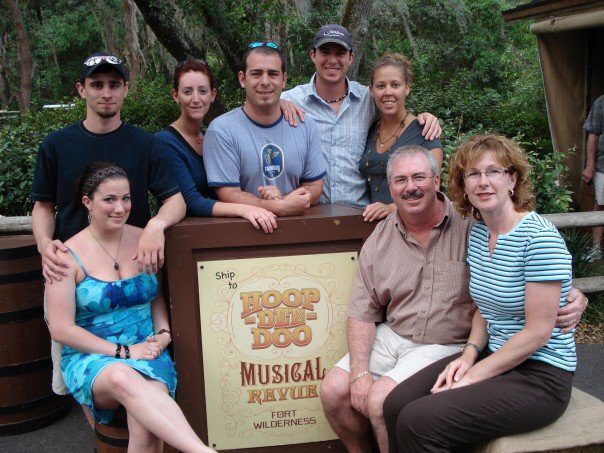 Stay tuned for my upcoming blogs and for tips on planning your next trip to Disney!
Bob