What to do in the event of a Property Claim
A property loss usually involves an incident that occurs on a home policy, a seasonal policy or a tenant's policy. It is generally a policy that would cover buildings, contents, equipment and liability. Whatever the type of policy that is involved, there are many similar things need to be done.
First of all, no matter what kind of claim it is, make sure that everyone is safe. Call 911 if you need help.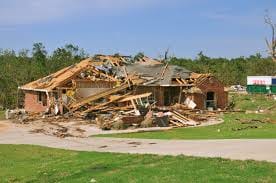 If the situation allows, try to prevent any further damages
If you have water coming into your home and it is safe to do so, use your sump pump. Move contents or items that you can to an area that would prevent them from being damaged. Do what you can to safely prevent any further damage. If your loss is from a break and enter, call the police right away, and try not to alter anything until the authorities arrive.
Today almost everyone has a phone with a camera. The saying that a picture is worth a thousand words is true. If you can, take photos of the damage, before you need to clean things up. This will help show the adjusters (and authorities if need be) the type and extent of the damages.
Now you will need to contact your broker to report that you have damage to your property. Your broker will want to identify when the loss occurred, what happened, and get an idea of the extent of the damages. From there your broker will notify your insurance company and report the loss. Once the claim has been reported, an adjuster will contact you. We understand that brokers are not available 24/7. Can't reach us? You can still get your claim started by going to our claims page to report your claim directly. Just have your policy number ready.
When the adjuster contacts you, he will discuss what occurred and will review your policy to determine the cause of the loss or damages, that the cause is an insured peril, and that you have coverage for it. Your adjuster handles your claim from the time it is reported until it is closed. Make sure you keep his name and contact information close at hand. This happens to us all. Once you hang up the phone, or even a couple of hours later, you think of questions to ask, and then you try to remember your adjuster's name. As most of us do not deal with claims every day, take a notebook or a piece of paper, and write your questions down as you think of them. That way, when you do speak with your adjuster again, the questions are right there and you can get the answers you need.
Many people ask, "Should I put this claim through my insurance?"
There are many things to consider before putting your claim through. In some situations, the answer will be clear, in other situations it may not be. The best thing to do is discuss this with your broker and your adjuster. Your broker can review your policy, discuss what will happen upon renewal, and you can decide what is best for your own situation.
If you have any questions about your claim, or the process involved, call your adjuster or your broker. All of us understand going through a loss is stressful, and both your broker and your adjuster are there to help make things go as smooth as possible.
Your adjuster and your broker will work for you to help get your claim settled.
At Pearson Insurance, you will deal with real people.
These are people who will remember you. You will have the comfort of knowing that you will be able to deal with the same broker, so they know and understand your insurance requirements and concerns. We offer choice. We have a number of insurance companies that we can check to make sure you are getting the best policy for the best price. Our Brokers are licensed, professionally trained, and offer expertise that allows them to provide top notch customer service to protect what matters to you and your family. We can leave you with the peace of mind knowing that you are dealing with a brokerage that has been in business since 1935!
Why not come and meet our team. Just click here to see the friendly face at the other end of the phone!